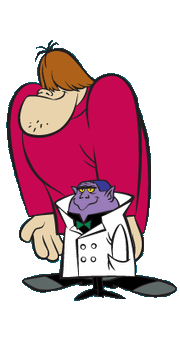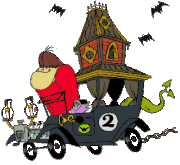 The Gruesome Twosome are characters on Wacky Races. Big Gruesome was originally voiced by Daws Butler and Lil Gruesome by Don Messick, they are currently voiced by Jim Cummings and Billy West.
Description
Big Gruesome, a large mop-haired ogre, and Little Gruesome, a pint-sized vampire, drive the number 2 car, the Creepy Coupe, a haunted house on wheels. They keep a wide variety of supernatural monsters and ghouls inside to assist them, primarily a fire-breathing dragon. Big Gruesome is the main muscle of the duo, while Little Gruesome is the brains and probably the leader of the two.
Trivia
The Gruesome Twosome hold the most third place finishes of the Wacky Racers.