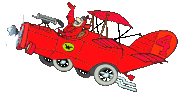 Red Max is a Bavarian daredevil pilot and air ace whose name is an combination of the Red Baron and the Blue Max, who drove his Crimson Haybailer, a car/plane hybrid that was capable of limited flight, usually just enough to leapfrog over racers or obstacles in its path. Red Max could use his propeller as a weapon to slice other cars into pieces, which was demonstrated effectively in one race against the Ant Hill Mob's long stretching Bullet-Proof Bomb. The Haybailer also had a mounted machine gun, which was used sporadically. The Haybailer's transformation from plane to car/plane hybrid seems to have significantly weakened its flying ability, and Max often has to bail out when the Haybailer breaks down.
Portrayals
Edit
Red Max was originally voiced by Daws Butler, Greg Burson, and currently by Dee Bradley Baker.
Max's car, the Crimson Haybailer is the only car never named during the opening titles, along with the Compact Pussycat.
Ad blocker interference detected!
Wikia is a free-to-use site that makes money from advertising. We have a modified experience for viewers using ad blockers

Wikia is not accessible if you've made further modifications. Remove the custom ad blocker rule(s) and the page will load as expected.