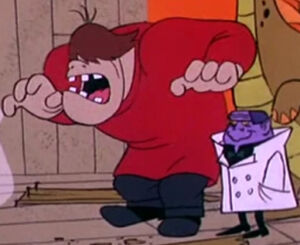 The Gruesome Twosome are characters on Wacky Races. Big Gruesome, or Tiny, was originally voiced by Daws Butler, then by Jim Cummings, and currently by Billy West, while Little Gruesome, or Bela, was originally voiced by Don Messick, then by Billy West, and currently by Tom Kenny.
About the Gruesome Twosome
Big Gruesome – a lurching, huge humaniod Frankenstein's monster / Lurch type character– and Little Gruesome – a purple-skinned vampire – are monsters driving The Creepy Coupe. The term "lurching along," a clear reference to the aforementioned character, is used by the narrator to introduce the characters and vehicle at the start of the show. Also, they can summon bats, storms, ghosts, serpents, and even a witch to help them fend off the other cars. Big Gruesome spoke like Boris Karloff and Little Gruesome like Peter Lorre. The Dragon who appeared in every episode, and would sometimes get out of the car and walk with the Gruesome Twosome, was such an integral part of the No. 2 team that he was essentially the 25th character of the show, although he was only ever known as "Dragon" by Big Gruesome.
Gallery