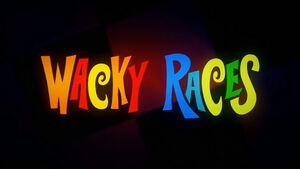 Wacky Races is an animated program from Hanna-Barbera and Warner Bros. It is a reboot of the original 1968 series, Wacky Races.
Races
"Ya Win Some, Ya Luge Some"
"Mambo Itali-Go-Go"
"So Far to Mardi Gras"
"Easter Express"
"Race-a-Lot"
"Peter Imperfect"
"Yes, We Canyon"
"Roamin' Racers"
"Smokey and the Racers"
"Raceketeers"
"Fantastic Race"
"Space Race"
"Backseat Drivers"
"Off Track"
"Cave Racers"
"Guru My Dreams"
"Cold Rush"
"It's a Wacky Life"
"Pretzel Logic"
"Dashing Thru the Snow"
"Formula Racing"
"Never Too Old To Wacky"
"The Wacky Always Rings Twice"
Ad blocker interference detected!
Wikia is a free-to-use site that makes money from advertising. We have a modified experience for viewers using ad blockers

Wikia is not accessible if you've made further modifications. Remove the custom ad blocker rule(s) and the page will load as expected.